Make Money With Google AdSense
I will show you how to make money with Google AdSense. It's an excellent way to earn passive income online 24 hours a day, 7 days a week. It is simple, easy, and most of all profitable.
What is Google AdSense?
It isn't a secret that Google earns most of its money by selling ads on their search engine.
No doubt you have observed that almost every time you enter some search term into Google, you see a list of text ads along the right side of your search results.
Those ads are paid for by advertisers who are members of Google's AdWords program.
These advertisers pay Google a fee for every time someone clicks on their ad. These advertisers want to create traffic to their website.
The nice thing is, Google will share the revenue they earn from these ads with you, when you publish their ads on your website.
This program is called AdSense.
Most any website with decent content can participate in Google AdSense.
If you own a website, or want to own a website, you would be crazy not to join Google's AdSense program. It is a great way to pay for your website and earn a profit to boot.
It is as close to free easy money as you can get. This doesn't mean that there isn't any work involved.
After all, you don't get something for nothing. You will need to write at least 20 pages of content about some subject and have some traffic to your website in order to qualify for this program.
The nice thing about displaying Google ads on your website or blog, you don't have to sell, collect payment, or ship any products.
Anytime someone clicks on an ad on your website, you make money. Nice!
How Google AdSense Works
Once you join Google's AdSense program, Google's will give you some HTML code to copy and paste into your website pages. You don't need any HTML knowledge to do this.
Google's algorithm based upon keyword analysis, frequency, font size, and link structure determines what your page is about.
Every time a visitor displays your page, Google places some text ads related to the topic of your web page.
Your personal publisher's ID code embedded in the HTML code on your web page, informs Google that you are the one that displayed the ad your visitor clicked.
Google tracks all your website's ad activity. Your private Google AdSense account reports the number of times ads were displayed, the number of times someone clicked an ad, the click through rate, and your earnings.
Once you have earned $100.00 or more, Google will mail you a check.
If in any month, you don't earn $100.00, Google will hold your commission until your commissions accumulate to $100.00. Then a check will be issued the next time checks are mailed.
As you can see, it is very easy to make money with Google AdSense.
How Much Money Can You Make With Google Adsense?
Google does not reveal how much they will pay out per ad clicked. That is a proprietary trade secret, you see.
If you look at Google AdWords keyword tool, (https://adwords.google.com/select/KeywordToolExternal) you can see the average amount that AdWord bidders are willing to pay for specific keywords. (Select the Show Estimated Avg CPC drop down menu option to see numbers instead of a graph.)
The range is from a minimum of $0.05 to whatever a bidder is willing to pay. I have seen some keywords go as high as $38.70. That is probably not the highest paid keyword either.
It is safe to say that you will earn a fair amount of the amount a bidder is willing to pay.
Now what would you rather do? Pay Google $38.70 per click for one visitor to your website, or collect a percentage of the $38.70?
It really is a no-brainer. I used to pay for traffic to my websites, but now I make money from hosting ads on my websites. It really is better to receive than pay!
How To Get Started
If you already have a content rich website that has a central theme, that is not a personal website about you, and has at least 200 unique visitors a day, you may submit your website to Google for review.
Be sure to read Google AdSense Program Policies before submitting your web site for review.
After a short while you will receive an email notice that either you were or you were not accepted into the AdSense program.
Once you have been accepted, you can log into your account and create the size and color of the ad blocks you want to display on your web pages.
Just copy and paste the code you are given into your web pages without any changes. You are allowed to place no more than three ad blocks per page.
Don't have a website? Don't worry, you can make a content rich website that can be accepted into this wonderful program to make money online. Here is how.
How To Make An Google Adsense Website That Works!
The secret to success with AdSense is to create a content rich website around a topic you know well and are passionate about.
Your website must be a single theme. You don't want a website that covers unrelated topics. Google needs to be able to determine your central theme so it can match ads to your content.
Avoid creating a website with software tools that scrape content from other websites. Aside from legal issues, you do not have the rich content that will generate free traffic to your website.
In the article "Google AdSense And Site Build It!... The Perfect Marriage Is Only The Beginning" (new window opens) you are introduced to Site Build It.
Site Build It is a set of web hosting tools that help you create an AdSense friendly website that Google and your website visitors will love.
I built this website using these tools. I love them. They are superior to any I have used in the past.
First, you will need to brainstorm your theme for keywords. Brainstorm It will help you search for related keywords. It helps you to decide if your desired niche is a viable project.
Once you have decided on your niche, you write informative articles around each keyword. You do not need to know HTML the language of the Internet. Site Build It handles this for you.
Site Build It's editor will also analyze your page to see if you have properly used keywords throughout your page. It makes suggestions how to improve your page so it will rank well with Google.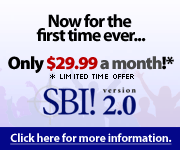 The nice thing about Site Build It, is that it will handle many of the laborious tasks including keeping your site map up to date for the search engines.
It will automatically notify the major search engines when you have a new or modified page to index. What a time saver! In another web host I formally used, I had to submit each page manually.
Site Build it has video and online instructions that teach you every step of the way. Their private forum is an excellent place to post your questions and get quick answers.
Site Build It will also give you the tools like Value Exchange to get links to your website. In addition, you can download a free copy of "Make Your Links Work", a 69 page ebook that describes in great detail the secrets of making your links work.
You need inbound links, that is, links to your website. The more high quality links from other important websites, improves your ranking in search engines.
When your web pages rank well, you will get lots of free traffic to your website from the search engines, and Google in particular.
Once you have 200 visitors daily to your website, you can apply to Google AdSense program for inclusion.
Once you are accepted as an AdSense publisher, cut and paste the code they give you into your web pages. You will soon hear the lovely cash register sound of Ka-Ching on a daily basis.
You now have the basic knowledge to make money with Google AdSense. If making money online is of interest to you, join Google AdSense after you have a content rich website and start a legitimate home business.
Good luck and keep creating new content!
Google™, AdSense and AdWords are trademarks of Google, Inc.


Return to Earn Money Online.

Return from Google AdSense to Legitimate Home Business home page.